JET ICU Has Trained Commercial Medical Escorts Standing by to Help You During a Flight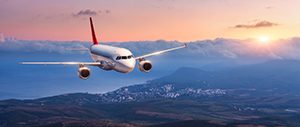 A commercial medical escort is a professional who can accompany you or a loved one during a commercial flight, offering medical assistance and ensuring the flight is as comfortable as possible. Whether you need to be transported to a specialized medical facility somewhere in the United States or you need an international flight to go home after being hospitalized while abroad, commercial medical escorts can offer a helping hand to ensure you receive the medical attention you need during the transport. Since 2003, JET ICU has provided this service to patients across the globe. Our commercial medical escorts hold critical care certifications and have plenty of experience working with patients with all types of medical conditions.
Our Medical Escort Services
At JET ICU, we want to take the burden off our patients and their families, and one of the ways we can do that is by handling the logistical details involved with commercial flying. So, when you call on us for commercial medical escort services, we will:
Book the flight for you, as well as take care of all special assistance requirements and medical clearances needed
Coordinate all ground transportation from the hospital to your home location (whether that is another medical facility or your residence)
Provide ongoing medical care during the flight, including administering oxygen and cardiac monitoring
Offer continuous communication with your family so that they know exactly what is going on before, during, and after the flight
Patient Advocacy
Our patients are always our number-one priority, and this commitment doesn't end when the patient is safely home. Indeed, we are advocates for our patients long after they have completed their flight, as we work directly with their insurance company to get the cost of our services covered. Our in-house legal team will do everything possible to limit your out-of-pocket cost – you can count on that.
If you want to learn more about our commercial medical escorts, or if you have a loved one in need of this service for an upcoming commercial flight, contact our communications center today. We have representatives standing by 24/7 to take your call.