Air Ambulance Services Provided Anywhere in the World by JET ICU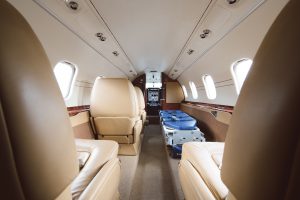 Safely transporting critically ill or injured people requires extensive experience and appropriate qualifications, no matter the circumstances. However, it is especially true when dealing with transport on an air ambulance, a critical care aircraft specially designed as a flying ICU. That is why those in need of air ambulance services should rely on JET ICU. Since 2003, we have provided air medical transport services for individuals across the globe, and we've established a reputation for offering expert and compassionate medical care during serious situations. Our state-of-the-art jets are fully equipped with the latest technology and medical equipment so that we can provide the same type of medical assistance as an emergency room. We're able to transport patients who are the most critically in need, even heart attack, stroke, and trauma patients, from wherever the injury or illness was experienced to an appropriate medical facility nearest to their home.
JET ICU, an owner-operated medical transport company, stands apart from other companies providing air ambulance services in a variety of ways. For example:
We have an unblemished safety record, which is due to the expertise of our pilots and in-flight medical personnel who go above and beyond to ensure every air ambulance flight is handled with the highest safety standards in mind.
Our in-flight medical personnel include board-certified doctors, critical care-certified nurses, and emergency medics, so our team can provide medical attention for any illness or injury, even the most catastrophic ones.
We are advocates for our patients when it comes to getting the cost of our services covered by insurance. Our in-house legal team will make every effort on behalf of the patient to ensure costs associated with the air ambulance flight are covered.
We are certified by the National Accreditation Alliance of Medical Transport Applications (NAAMTA). It is not necessary to have this accreditation to operate an air ambulance, but many air transport companies don't go through the rigors of attaining it. We are proud to stand apart with this distinction.
At JET ICU, we facilitate the needs of our patients from bedside to bedside and take care of all of the logistical details, including coordinating with the discharging and receiving medical facilities.
Contact our communications center if air ambulance services are needed. We have representatives standing by 24/7 and one of our jets can be in the air in as fast as 90 minutes.