JET ICU Provides Air Medical Transport Services for Patients Across the Globe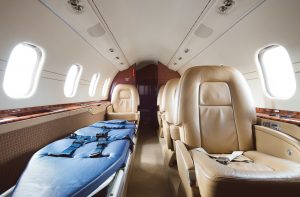 Suffering a major injury can be devastating no matter where it happens. Dealing with a potentially life-changing event away from home, however, adds an extra level of pain, as travelers have to wonder how to get home on top of receiving appropriate medical care. With JET ICU working on your behalf, some of those concerns can be alleviated. We are an experienced and accredited air medical transport provider offering services worldwide. We have the training, equipment, and expertise necessary to transport the sick and/or injured no matter how critical or catastrophic the situation may be. And, since we own and operate our own fleet of jets and have our own pilots and in-house medical flight teams, we can typically be in the air in 90 minutes, flying directly to the necessary location to provide transport.
JET ICU is proud to offer the following air medical transport services:
Medical evacuation – When medical evacuation is required, we transport from bedside to bedside, handling all medical needs during this time. Our jets are fully equipped to function as a "flying ICU," and our medics on board have critical care certifications.
Medical repatriation – We can transport individuals who get injured or become ill while abroad back to their home country. Simply call JET ICU and we'll provide safe transportation to a hospital capable of providing appropriate care nearest to home.
Commercial medical escorts – For sick or injured individuals capable of flying commercial but still in need of medical assistance, we can provide ongoing care aboard a commercial airline flight. Our services could include administering oxygen and/or cardiac monitoring, among others. Plus, JET ICU handles all of the logistical details of commercial flying, such as booking the flight, securing ground transportation to and from the airport, and coordinating with any discharging or receiving healthcare facilities.
At JET ICU, we pride ourselves on going the extra mile for our patients and ensuring the care process provided during our air medical transport services is as seamless as possible. We understand that this is an extremely difficult time for your family, and we don't want to be an added burden. This is why we are pleased to accept most major insurance plans and even have an in-house legal team that works directly with insurance companies to get the cost of our services covered. We are happy to serve as advocates with your health insurance company, a service not all air medical transport companies provide.
When air medical transport services are needed, experience matters. And when experience matters, you need JET ICU. Call us today for immediate assistance. Our communications center is available 24/7, and we can have a jet in the air at any time of the day or night.