JET ICU is an Experienced Air Ambulance Provider Offering Medical Evacuation, Medical Repatriation, and Other Air Medical Transport Services for Patients Worldwide

JET ICU is the "flying ICU" that you can depend on for first-class air ambulance, medical repatriation, and commercial medical escort services. We are accredited by the National Accreditation Alliance of Medical Transport Applications (NAAMTA), a distinction that sets us apart in the air ambulance industry. We can fly anywhere in the world, and since we own and operate our own fleet of jets and maintain full operational control with in-house pilots and medical personnel, we can typically have a jet in the air within 90 minutes of receiving a call. This is one of the fastest times in the industry, and is just part of why we have been counted on time and again for transporting seriously injured and ill patients in need since our founding in 2003.
Catastrophe can strike at any moment. If a critical injury or illness occurs while traveling abroad, additional complications are thrust into an already difficult situation. The most pressing concern after obtaining immediate medical attention is how to return home. At JET ICU, we can bring a sense of calm in these situations by handling safe medical air transportation. Our bedside-to-bedside air ambulance services provide comprehensive and safe transport between medical facilities and allow patients to return to their home country so that they can be surrounded by loved ones as they recover. We have an unblemished safety record, so patients and their families can depend on us for secure medevac travel.
One of the ways JET ICU stands apart as an air medical transport company is the fact that there is virtually no type of medical emergency that we cannot provide assistance for. Our jets are fully outfitted with state-of-the-art medical equipment so that we can provide the same level of treatment as an emergency room. From heart attacks and strokes to trauma accidents and orthopedic injuries, our highly experienced medical personnel has the expertise necessary to provide in-flight aid in any situation. Our doctors are board certified and our nurses and emergency medics hold critical care certifications, and every medical personnel on our staff is required to remain up to date on current innovations in healthcare, as well as maintain their certifications in their specialty through clinical practice and continuing education.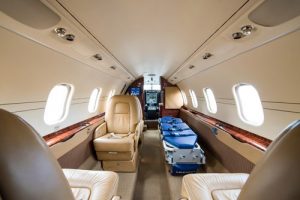 Another way in which we stand out from other air ambulance service providers is that we are strong advocates for our patients when it comes to working with health insurance companies to get the cost of our services covered. No matter what type of air medical transport service we provided – medical evacuation, medical repatriation, or commercial flight escort – our in-house legal team works diligently on our patients' behalf to limit their out-of-pocket expenses.
Our communications center is open 24 hours a day and our personnel is ready to fly at any time of the day or night. For more information about medical repatriation, commercial medical escorts, and other air medical transport services, or to schedule an air ambulance flight immediately, contact JET ICU. Experience matters when it comes to air transportation in critical care situations. When experience matters, you want JET ICU.